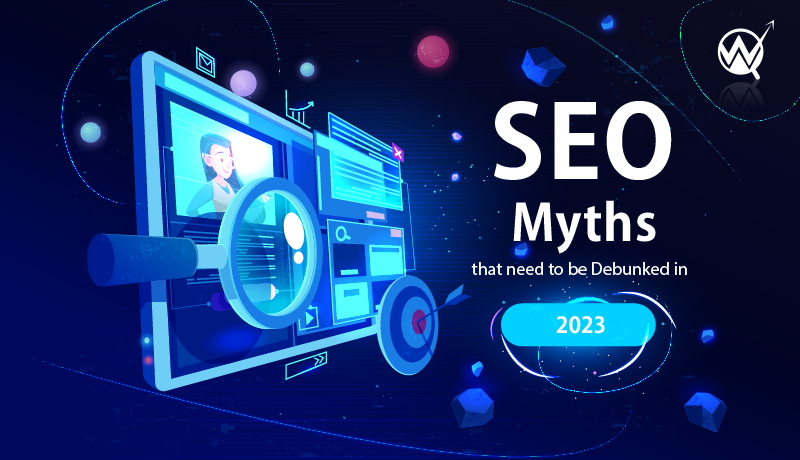 SEO is a fairly new marketing concept developed by self-taught marketers who kept on trying new strategies until something clicked for their website. These marketers then repeated their stories through blog posts, podcasts, conferences, presentations, and social media. Soon enough, their followers accepted these strategies as facts because, after all, 'if it ranks well on Google, it must be true!' Over time, these stories, aka strategies, became facts. Nobody really questioned them because the source seemed legit and even came to be considered best practice. But it's 2023, and high time some of these are busted.
Below, we have listed some of the most common SEO beliefs, followed by an in-depth analysis of whether they are true with respect to our own experiences while managing SEO projects for over 100 clients over a span of two decades:
Belief #1 Keywords Don't Matter
True Or Not –
Not True
Around a decade ago, we remember writing and reading articles generously sprinkled with keywords. In fact, it wasn't uncommon to find keyword-stuffed content ranking high on Google. All that changed when Google launched a series of updates, from the Panda in 2011 to Hummingbird in 2013 to the latest Spam update in 2022.
Suddenly, keywords became undesirable, with an expert upon expert explaining in length how keywords are not important but rather a hindrance to quality content.
Keywords are important, still relevant, and will continue to remain so, at least for a few years from now.
Google has never stated that keywords are not important. Never. Rather, the search engine leader asks websites to focus on content for humans, not just search engines. The idea is to produce unique and original content that's useful and valuable. In fact, Google's content quality checklist includes a series of questions content creators can ask to understand if they're creating helpful and reliable content. The content should cover the topic in detail naturally, you cannot do this without including keywords. But remember to use it naturally and when required.
Stay away from spammy query-based keywords like buy xxx Atlanta.
Ensure the content is information rich when you do this, you'll use keywords naturally.
Belief #2 SEO Is Dead and Gone
True Or Not –
Not True
If you're new to SEO and looking for information online, you'll see plenty of claims that SEO is dead and statistics about how SEO is now irrelevant. That's probably because SEO has come a long way from how it was practiced 20 years ago when Google and the internet were at their nascent stage.
The Truth is, two decades ago, ranking a website on search engines was a cakewalk. You didn't need to do much except list the website in multiple directories and repeat your keywords enough times so that it outranks your competitor's website. Basically, SEO was link-building and keyword optimization. Today, these practices are considered practice spamming.
Google soon realized it had to weed out thin content to keep its search engine relevant and launched a series of algorithm updates that helped end users find relevant and useful content. As Google keeps experimenting with SERPs, algorithm changes will naturally affect website rankings. What's relevant today will become obsolete tomorrow.
And if you think advertising is a worthy replacement for SEO, think again. A recent Google Search ad revenue report found a steady decline in ad revenue income. Besides, both SEO and AdWords are two sides of the same traffic coin while advertising helps with branding, SEO is more like a long-term strategy to rank your website organically.
To stay updated on SEO strategy, you must keep track of the latest Google news and updates on algorithms and update your SEO strategy accordingly. Audit your website regularly to check if you're website is falling foul of Google's Webmaster Quality Guidelines. At Wizi Digital, we offer to audit websites for on-page and technical SEO aspects to look for improvement opportunities.
As we are the best SEO agency in Chennai, we also offer to audit websites for on-page and technical SEO aspects to look for improvement opportunities.
Belief #3 Exact Match Domains Are a Thing of the Past
True Or Not True –
Not True
Not long ago, exact match domains or EMDs were a surefire strategy to help you rank well because the keyword you're trying to rank was in the domain name. To the uninitiated, an EMD is a domain name that precisely matches the search query the business is trying to rank for. For instance, if you're an SEO business in Atlanta, you will likely rank well for atlantaseo.com without much effort. This was once a huge business for domain squatters looking to make money by selling the domain name to the highest bidder.
That is until Google decided to do something about duplicate, low-quality EMDs that offered nothing substantial to users. Today, if you're searching for Atlanta SEO, you will find local results, i.e., trustworthy websites filled with ratings and reviews from local customers and listings from reputable websites like Angie's List and TrustPilot.
But that doesn't mean EMDs are dead. Google still likes exact-match domains as they precisely match user intent and help with brand awareness. However, the EMDs must not be spammy with thin content. In fact, EMDs work best for Google Business Profile SEO having a keyword on the domain name is one of the best practices. However, the trick is to use the same domain name as your business name.
Rather than staying away from EMDs, we suggest including keywords in your domain name during domain registration. Or you could buy a domain name during a special campaign and make the website rank well. But, as with any other domain, EMDs, too, need TLC-consistent SEO, quality content, quality backlinks, etc.
Belief #4 Page Ranking Is Irrelevant
True Or Not –
Not True
PageRank was an important algorithm created by Google's Founders and even references Larry Page's name. The algorithm equates links with votes and works on the underlying assumption that more links = more importance. In 2016, a former Google employee said Google had not used PageRank since 2006.
However, in 2020, John Mueller confirmed that Google uses PageRank as a rank factor, albeit differently. Also, the original formula has changed the new algorithms are more sophisticated, but the core idea is the same. But he also mentioned that it considers plenty of other signals that are much stronger. While content matters most, PageRank is still important. Interestingly, a recent AHREF article mentioned how rankings drop sharply when links are removed using the Disavow tool.
We suggest you review your backlink profile and look for do follow backlinks from reputable websites relevant to your niche. Monitor your competitor's website because your new backlinks could link to them.
Belief #5 Outbound Links Affect SEO
True Or Not –
Not True
Outbound links are links that point to another website from yours. Content creators use outbound links to provide additional or important information about the discussed topic. Since they link to authoritative sources, they're called authority links. Some publishers are wary of linking out to other websites from their content, believing that it could dilute their PageRank.
Surprisingly, not only beginners but even experienced SEO experts believe PageRank leaks. This is because Google has, in the past, handed out manual penalties to websites for unnatural links from their site.
But Google has categorically stated that these penalties were issued only to websites participating in link schemes viz., link farms, reciprocal links, text link ads, broken links, etc. Similarly, websites that link to PPP porn, pills, and poker are also penalized.
Outbound links do not affect PageRank; instead, they add weight to your page, especially on topics that could have a real-world impact on users, i.e., YMYL topics. Given Google's increasing focus on E-A-T in the ranking algorithm, linking out has several benefits. For one, it proves authority by linking out to reputable sources like The Guardian, The New York Times, etc., and you can establish credibility, even if you aren't a world-renowned expert on the topic.
We suggest you continue to link out, but wisely. You must link to websites relevant to your niche and the topic on hand.
Belief #6 No Follow Links Are Not a Google Ranking Factor
True Or Not –
True
But……
Google introduced the Nofollow attribute in 2005 to manage PageRank manipulations and fight comment link spam. Thus, links with the Nofollow tag would receive 'no credit' for search results and hence pass less SEO value. This also helped publishers ensure that sponsored links did not violate Google's quality guidelines.
Yet, people found a way around it by using the new tag to funnel PageRank to pages that they need. That's when Google changed its mechanism by distributing PageRank share equally between all the links on a page and only passing weight by do-follow links. That's when people began considering nofollow ranks as worthless.
While nofollow links are not a Google ranking factor, they are not entirely useless. It's natural for healthy backlink profiles to have considerable nofollow links, or else there would be too much spam. Also, nofollow and related attributes like sponsored and UGC aren't a directive for Google bots to consider i.e., it will see the tag but decide how to treat it on its own.
But most importantly, there are plenty of other signals that help determine the quality of a web page nofollow links pass some of them.
We suggest you work on establishing your credibility in your niche to attract mentions naturally from credible sources. You can do this by working on social signals, participating in niche-related events, and managing reviews.
Belief #7 Longer Content Is Good For SEO Traction
True Or Not –
True and False
Long content makes SEO sense for several reasons. For one, it allows you to use keywords more, allowing Google to interpret your page as meaningful. Naturally, the content would rank well. To be clear, long-form content is anywhere with 1200 or more words and generally covers blogs, white papers, e-papers, etc. Long content also allows writers to cover a topic in-depth and provide detailed information supported by data, statistics, infographics, and research. There's also data to prove that long-form content can generate 77.2% more backlinks than short content.
But short content has its uses, especially among busy professionals who want the information to be packaged into bite-sized sections. It's also a great way for people to engage with your brand. Short-form content can get your audience's attention, especially when you use humor.
Truth is, both long and short-form content have their place in the SEO game. Also, what's more, important is how efficiently you answer the user's questions if you can answer in 400 words, that's fine. But if it takes 4000 words, that's fine too. Search intent is the operating word here because it's not keywords that matter most.
As for being able to use more keywords, there are plenty of other factors far more important than keywords images, page speed, backlinks, etc., which are equally important.
It all depends on the type of content a crisp product description with good quality images and information such as key features, price, etc., helps rank a product page and not long-drawn content with empty words.
We suggest you discuss with our content team to understand the ideal content length for your website.
As we are the best SEO company in Chennai, we always suggest that clients discuss ideal website content length with our content team.
Belief #8 AI Content Is Bad For SEO
True Or Not –
Not True
This may sound contrary to the general opinion circulating on the internet. But we believe there's nothing to be achieved by shunning technology. Rather, it's in our interest to adapt to technology and look for ways to make the most of it. You may or may not be a fan of AI-generated content, but that's a personal preference. It does not matter to Google if the content is AI or human generated as long as it is relevant and useful to end users.
And if you're worried about being penalized for spammy automatically generated content, the operative word here is spammy and includes spammy content generated by humans.
Use AI as a guide to help you generate ideas for your blogs, proofread your content, and create outlines for your article.
Belief #9 Guest Postings Are a Thing of the Past
True Or Not –
True and False
Just because you tag your content as a guest post does not mean that Google has to accept your perspective. If the content seems low quality and is spread thinly, it will still categorize your blog/white paper/e-book as spam and penalize you for low quality. But guest blogs have their place otherwise, the internet wouldn't be filled with blogs and articles from freelancers and external authors.
We suggest you take great precautions when using guest posts. Make sure you avoid spammy blogs that don't cover your topics. Don't go overboard with links and anchor links, as they look spammy and irrelevant. And don't forget to reply to comments.
Belief #10 Keyword Optimized Anchor Texts Are Irrelevant
True Or Not –
Not True
The 2012 Penguin update was targeted at spammy links and over-optimized anchor texts. As a result, websites that used optimized anchor tests were badly lit and found it difficult to recover. Thanks to Google's Spam Policies, webmasters are now clear about link spam. Content with advertorials, i.e., articles where the publisher has been paid to include links that pass ranking credit, press releases distributed on other sites, etc.
We suggest you avoid clickbait anchor texts but rather keep them descriptive. The anchor texts can be explanatory with naturally used targeted keywords or include a brand name. It's alright to use anchor texts like read more, and visit here, but they must have enough context to allow users and Google bots to understand your content.
Belief #11 Page Layout Has Zero Effect On SEO
True Or Not –
Not True
It's an amateur mistake to assume website design has nothing to do with SEO. But SEO isn't only about meta tags, alt tags, keywords, etc. There are too many factors that affect rankings. And page layout is one of them. A good web design allows Google bots to understand the layout of the page and understand the most important part of the page. This also allows bots to pay more attention to that part when indexing the web page.
Google introduced Core Web Vitals in 2020 a set of metrics that became a ranking factor affected by page speed, visual stability, and responsiveness. In effect, web design influences Google's ranking. Google has also announced plans to introduce INP, i.e., Interaction to Next Paint. The difference is that while earlier, Google measures response time for the first user's interaction, INP considers all interactions.
We suggest using the Google Search Console Core Web Vitals to analyze your website layout and keep the report in the green zone. The report shows which matrix needs fixing but does not tell you how to fix the problem. We suggest you work with us to understand how to fix your problem.
If understanding the Google Search Console Core Web Vitals seems overwhelming, we suggest hiring the best web development company in Chennai.
Belief #12 Near-me Optimization Is Irrelevant for Local SEO
True Or Not –
Not True
Adding near me to niche keywords was fashionable once but has become outdated over the years. Yes, they sounded unnatural and spammy, but as local SEO evolved, they became a proximity marker and weren't considered keywords. That's because proximity affects distance, which is one of the local SEO factors for ranking.
In effect, while near me isn't effective when used in the content, you can surely find creative ways to use them in meta titles, H1, image tags, etc.
As SEO continues to evolve, more myths will need clarification. We'd love to hear from you what myths you've heard. Share your views in the comments below.
Belief #13 – Ads Are Sufficient: Who Needs SEO
True Or Not –
Not True
Ads indeed help jumpstart your digital marketing efforts. They are a great way to drive initial traffic to your website and boost brand awareness. But if you're looking to build long time organic traffic, you'll need to complement it with SEO. Agreed SEO takes time, but they are necessary to drive quality traffic.
There's also a popular opinion that ads don't help much with organic ranking. That isn't true either – users who see an ad often are more likely to click on its organic listing, helping a page move up in search results. But that's about it. Ads don't help you with SERP features like knowledge panels, news, etc., because these are collected organically.
As earlier said, ads complement SEO and aren't opposed to one another. SEO helps you rank well and get potential customers interested in your brand and business. Meanwhile, sponsored snippets have higher CTR and can be adjusted quickly.
We suggest you balance SEO and paid ads, but it's easy to forego the latter if you're on a tight budget. But as you progress, you can always review bids to check if expensive keywords have become affordable and set up ad campaigns if they fit your budget.
As one of the best digital marketing agency in Chennai, we promise the best Google Ads campaigns for your project.
Belief #14 – Social Signals Are Meaningless In Terms Of SEO
True Or Not –
Not True
There have been contradictory opinions about social signals being a part of the ranking. While in 2010, Matt Cutts, Google's then Head of Webspam, claimed social signals to be a part of social rankings, he refuted these claims later in 2014.
While they may not be a part of ranking algorithms, social profiles affect brand visibility. This is because social media pages are indexed and can appear in SERPS. You still need an engaging social media profile to attract the right group of users and increase your engagement metrics. The more people find your posts interesting, the more they're likely to share them, leading to more links to your content. Also, when users click on the links to your posts, they're indirectly ranking your website.
We suggest you post regularly on social media platforms but customize them to match the tone of the platform. For instance, while short content forms work on Twitter, LinkedIn posts must be detailed and supported with proof. And don't forget to keep the tone natural. You must also engage with the audience, encouraging them to react and suggest solutions.
If you don't have the time and energy to create social media content, we recommend working with the best social media agency in Chennai.
Belief #15 – AI May Make SEO Obsolete
True Or Not –
Not True
Ever since AI was introduced, people have been scaring everyone about how it could turn into a Frankenstein monster gobbling away jobs and rendering entire professions obsolete. While AI is a game changer, we're far from Artificial Intelligence replacing humans. Search engines like Google and Bing are developing AI to integrate them into their search results. But the results are mediocre at best when it comes to actual life implementation of tools like ChatGPT. For instance, AI-generated images hardly look indistinguishable from human-generated images. Similarly, AI-generated content looks generic and hardly offers any input regarding real knowledge.
AI may change SEO but will not replace it. That's because AI does not generate new content; rather, it scores the databases of human-generated content and combines it to create an answer. That means an AI is as smart as its reference human-generated text given to it. If you feed nonsense, the AI will generate nonsense.
In fact, recently, researchers tried to train AI using AI-generated content. The results became more and more meaningless until the algorithms completely collapsed. For now, Google must rely on good quality human-generated content to crawl and index websites.
We suggest you balance AI-generated content with human content and learn how to make AI work for you.
As SEO continues to evolve, more myths will need clarification. We'd love to hear from you what myths you've heard. Share your views in the comments below.